I love scones, and good vegan scones aren't terribly common. So I'm learning to bake them myself. In the last week I've made three batches of vegan scones. Here's what I've learned.

Batch 1 (11 March)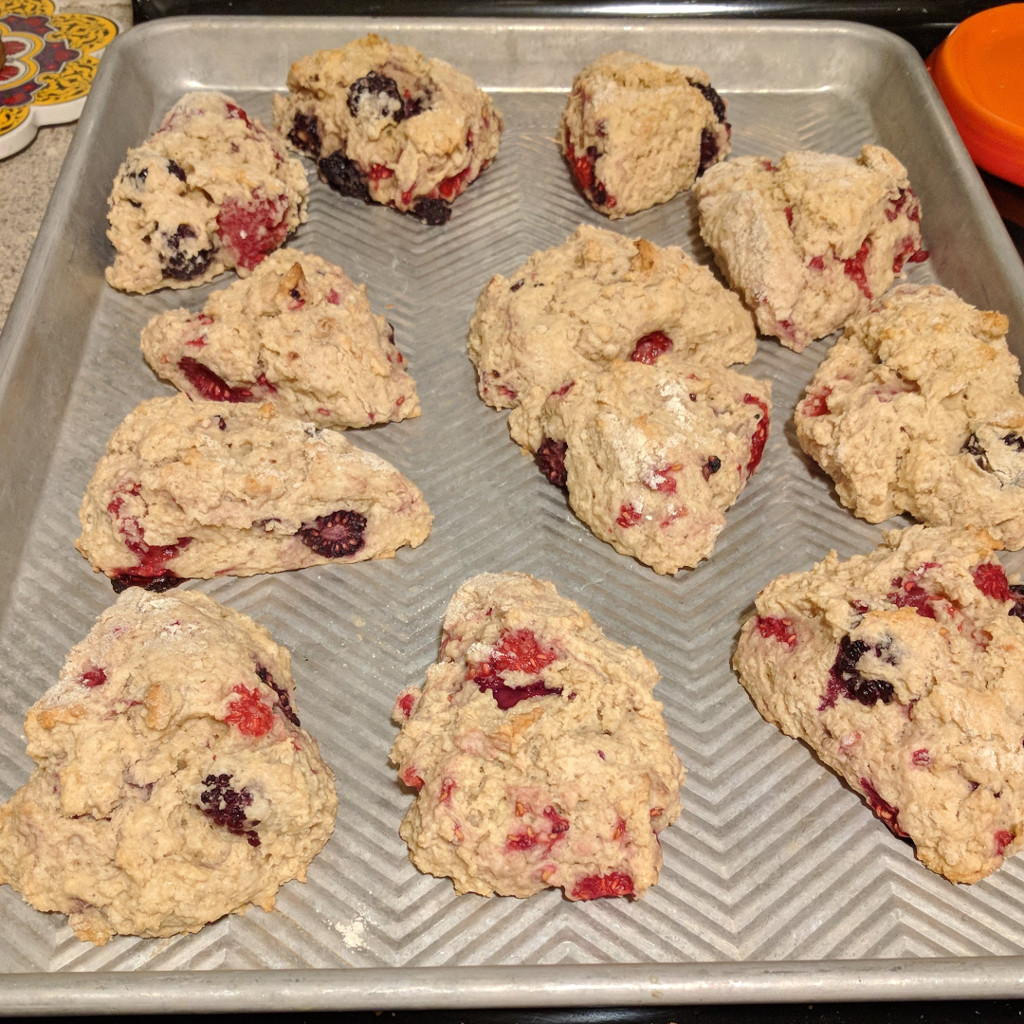 For the first batch I followed the Veganomicon "Basic But Brilliant Berry Scones" recipe as close as possible (10th Anniversary Edition, p343).
For ingredients I used So Delicious Coconut Milk, Bob's Red Mill Ivory Wheat flour, coconut oil as directed, and mixed in blackberries and raspberries. I skipped the vanilla (house rule).
For prep, the recipe reads:
Add the coconut oil in small clumps, then use your fingers or a pastry cutter to cut it into the flour until the flour texture becomes pebblelike.
We don't have a pastry cutter, so I mixed with my hands as directed. The dough came out very wet. I shaped on parchment paper on the counter as directed (using extra flour to manage with the very wet dough), moved the triangles to a baking sheet, and baked 26 minutes at 375°.
I was pretty pleased when they came out of the oven, but realized later that they were underdone. They didn't keep well, getting mushy over the next couple of days. The texture came out more "drop-biscut-y" than I wanted; I was hoping for a tighter, cakier crumb and a smoother top. They're also not particularly nice to look at – but they did taste good! This recipe has a sweet batter, so even failures are delicious.
Batch 2 (12 March)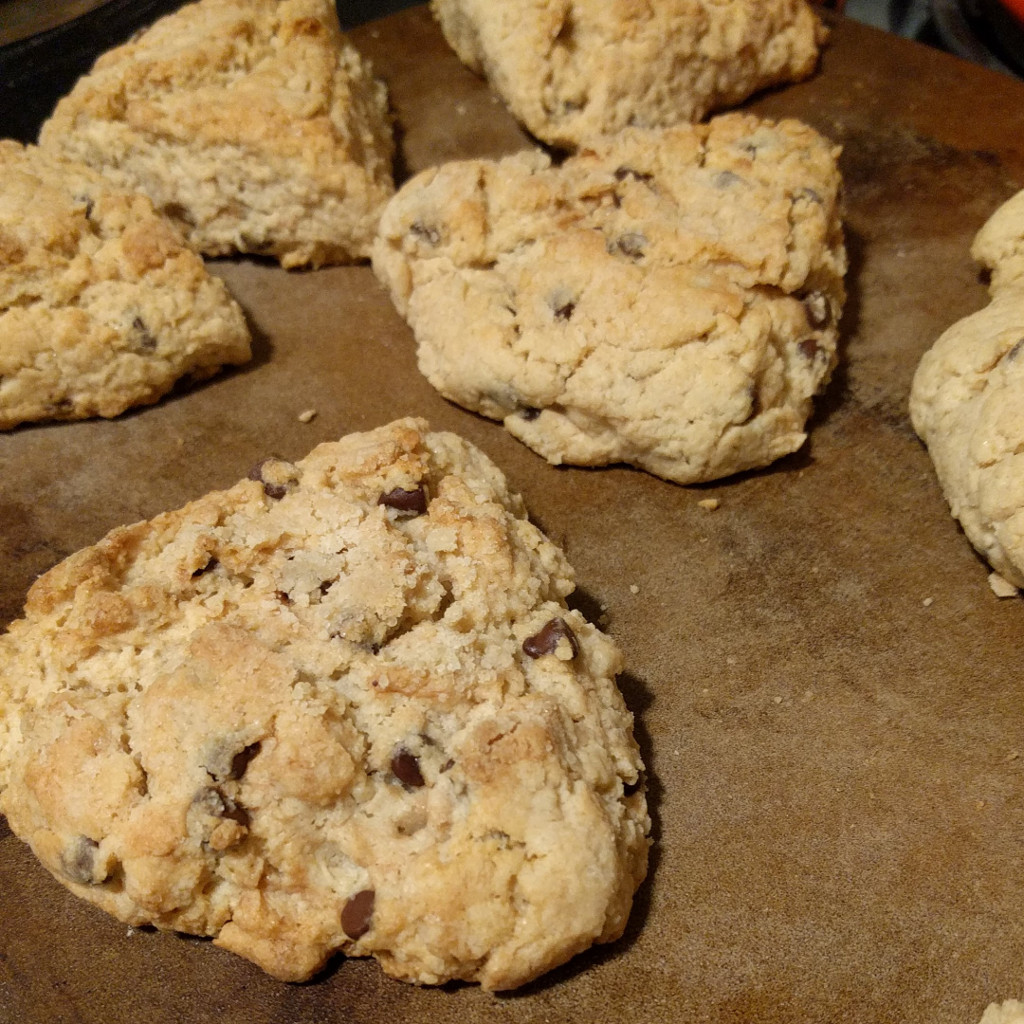 Alleson requested chocolate chip scones, and I couldn't wait to try again, so the next day I gave the recipe another shot. I did some reading online (and discovered Seasoned Advice, a StackExchange for cooking) and found a few bits of scone advice repeated over and over:
Chill your butter! (Or in my case, oil) – the colder the better.
The pastry cutter matters – your hands will melt the oil too early. You don't want those pockets of oil to become liquid too soon – maybe not until it's in the oven.
It's very easy to overwork scone dough. Recipes disagree on exactly how much mixing/kneading is needed, but generally fall somewhere between "just moistened" and "12 folds."
Many non-vegan recipes recommend cream or whole milk.
I also found this delightful thread explaining the difference between scones (UK), biscuts (UK)/cookies (US), biscuts (US), tea biscuts (UK), muffins (UK), and muffins (US). I confirmed that the thing I'm after is a particular variant of UK scones.
So before starting my second batch I stuck my jar of coconut oil in the fridge. I cut in the oil with a table fork, and I used canned coconut milk with the cream mixed in, instead of thinner coconut milk from a carton. My dough came out much drier and more workable this time. I shaped it on a floured cutting board (less sliding around) and transferred to a preheated baking stone. I baked at 375° again but at 26 minutes wasn't satisfied that they were done (maybe our oven runs cold?) so I gave it another five minutes or so until they browned properly.
These were much better! They were properly dry and kept well over the next several days. These were still a little biscuty, and didn't have quite the look and shape I'm hunting for, but they're a huge improvement on the first batch.
Batch 3 (18 March)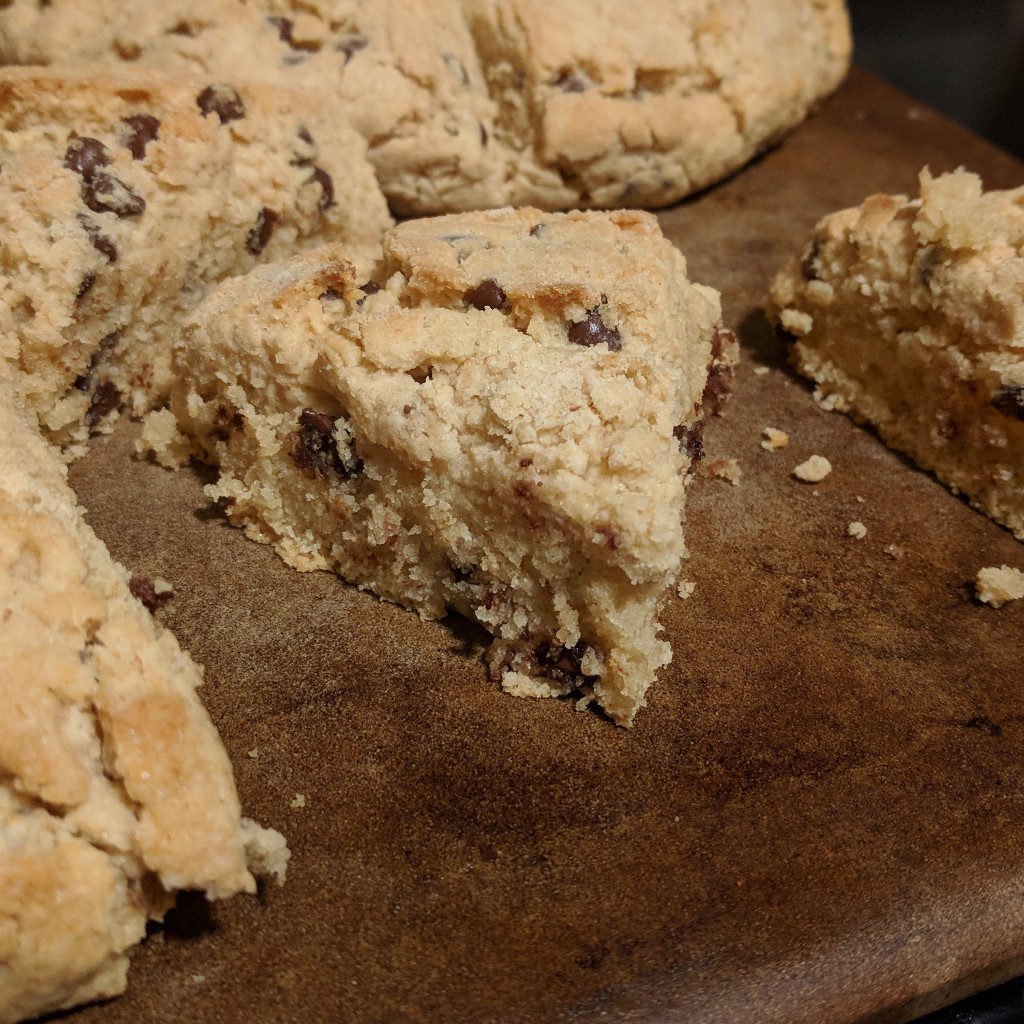 I got up this morning and tried again. For the third batch I changed a few more things: I swapped in an Earth Balance stick for the coconut oil, cold from being in the fridge overnight. I cut it in with a table fork I'd put in the freezer for a few minutes. The dough came out almost too dry – I added a splash of coconut milk before shaping it, and may have overworked it a little because of that. I shaped into three 6″ rounds instead of two 8″ rounds, for slightly smaller scones, and even though I cut them in advance I baked the rounds together on the scone to hold in moisture. I baked at 380° for about 32 minutes.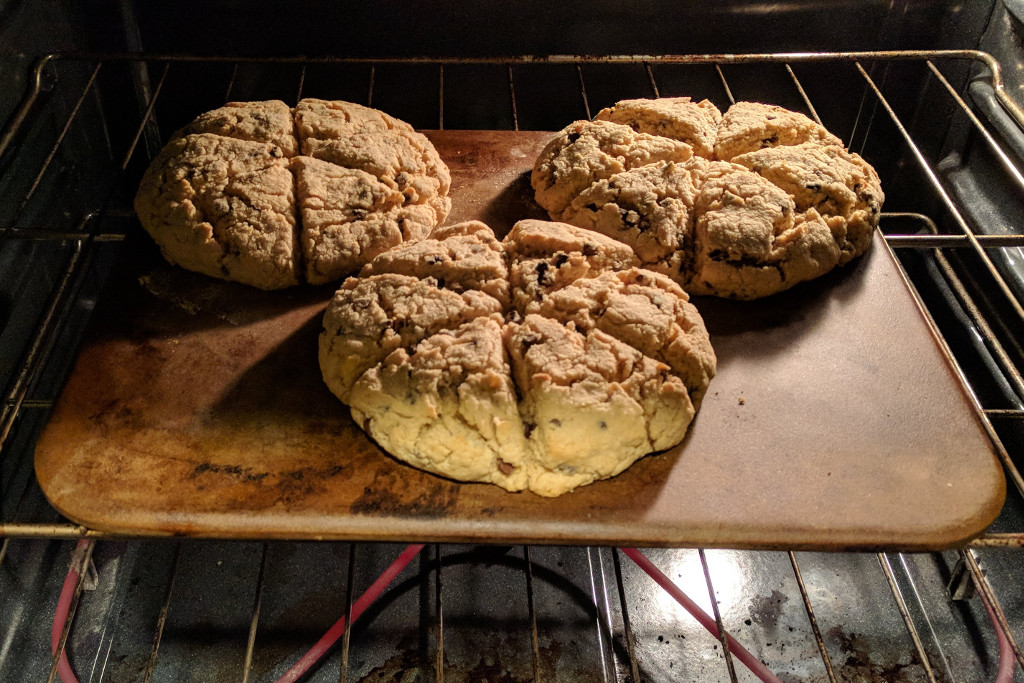 I'm really happy with these! They've got a dry, crusty outside but stayed moist and soft inside, closer to that cake-y texture I've been trying to get right. They also look a lot nicer – they held their shape properly baking together, and they pull apart easily. We'll see how they keep (I'm writing these right after making them) but I'm optimistic.