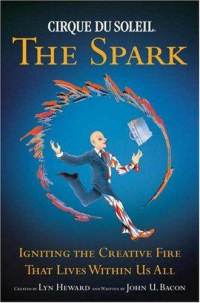 Part of the suggested reading prior to my first semester at ETC is a book called The Spark: Igniting the Creative Fire That Lives Within Us All, by John U. Bacon. It was a quick read.
The book presents a behind-the-scenes look at Cirque Du Soleil, and the culture they cultivate. It's presented via the fictional story of a sports agent who takes a sabbatical with Cirque. Mild spoilers ahead (though it's not a very spoilable book).
I'll be critical first. The book is over-simple. It's a very easy read, unlikely to tickle too many neurons. The pace drags a bit, but it's a short book anyway. It's also less than revealing; this story is obviously scrubbed clean of all trade secrets, conflicts, and negative experiences. It's Cirque propaganda.
The best part of the book (and probably the reason the school suggested it) is that it's sprinkled with unsubtle wisdom about creative collaboration. In fact, for my own purposes, I'd like to extract those bits and list them out of context.
People rarely work harder than their boss.
Make your artists intellectually uncomfortable.
Trust (of oneself and others) is a crucial skill for creative work.
It must be safe to make mistakes.
Embrace your own personality and experiences – don't suppress them. Twist hardships into inspiration.
The muse helps those who help themselves.
Don't compromise. Demanding to have your cake and eat it too can lead to creative new solutions.
So overall, the book was a light refresher on being a fully engaged individual. It seems to come down to abandoning inhibitions and throwing oneself into the work. I had a middle school teacher who liked to say, "Wherever you are, be all there." What's a good word for "something obvious that bears repeating?"