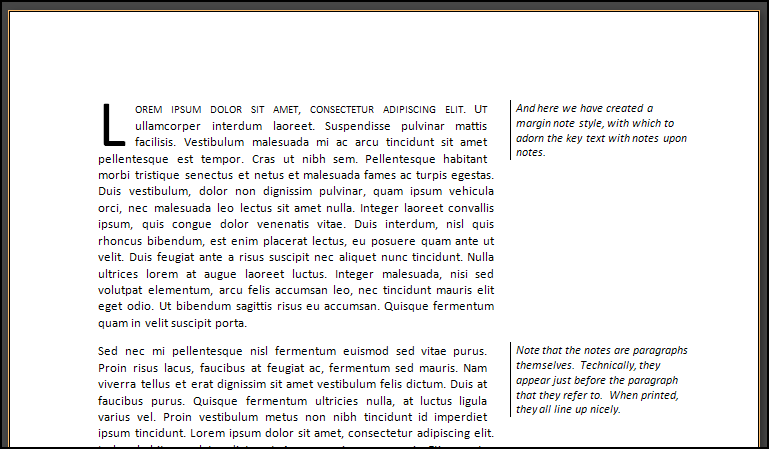 I've been testing some games for the upcoming IFComp, and when I test I like to send an annotated transcript back to the author. I puzzled for a while over the best format to use, and decided that I wanted to imitate my favorite annotated classics with a kind of two-column layout. The original transcript would be a wide column on the left, and my annotations would be a narrow column on the right. I was frustrated to discover that neither Word nor OpenOffice.org support this kind of document!
Columns are no good because text flows from one to the other, and I wanted my columns to be separate. Tables have been suggested in several places for parallel texts, but it's recommended that you start a new row for every paragraph. That's no good when you want to paste the entire contents of one column into the document. Finally I did a few transcripts by adjusting the margins and using absolutely-positioned textboxes for every annotation. It works, but it's time-consuming to paste in a new textbox for every note, I had to manually resize them and it's hard to position them consistently.
Finally, I found this tutorial: "Marginal Text" by Suzanne Barnhill, and it's just what I was looking for. Basically, you make Margin Note a new paragraph style and let Word handle the rest. Here's my version of how it's done for Word 2007:
Whether you're doing testing for an Interactive Fiction author or needing to annotate some other document, I hope this helps!